***UPDATE***
The raffle will be open until Wednesday 26th, 9.00am JST as requested by Toni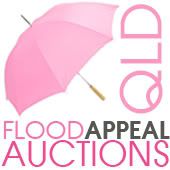 I am sure you will have heard about the
devastating floods
in Australia, the area that the floods cover is massive, the size of France and Germany combined, many people have been affected, lives and homes lost, personal horror stories are starting to be told such as the
13 year old boy
who sacrificed his own life for his younger brother, and I am sure many more will follow.
I heard about the flood appeal auctions via
Jodie at Ric-Rac
, thanks to
Toni at Make it Perfect
, a group of bloggers have got together to hold auctions, sales, raffles or giveaways*, she will post a master list of all those involved at the weekend.
Many of those involved are from the crafting community of which I feel part of but I also feel part of the online Montessori community and I though it would be good to get the Montessori community involved too. I have a lot of Aussie friends and family who live out there and I know there is a big homeschooling community, I can't bear to think how many children are affected by the flooding for some their whole community washed away in minutes, so please take a minute or two and look around you, now imagine it all swept away.
For my small part I am holding giveaway*
Please read carefully:
*it is a giveaway with conditions
This giveaway is open to everyone no matter where you live.

You may enter as many times as you like

but

each entry / donation must have a separate receipt number. (eg: donate $5 ten times if you want to donate $50- then comment ten ti

mes

with your receipt number

and yep its a pain in the bum, but that is as fair as I can make)

A winner win be choose by random generator on March 21st 9.00am JST
After you have done this , return here and leave your comment
with your receipt number
and an email address so that I can contact you. Please, only leave a comment on this post if you are entering the draw otherwise it cocks up the random generator, thanks.
A bumper pack of all my Montessori PDF files, many of which are for sale in the
Goldmine shop
others I have put up for free download at some point and some that have never made it off my computer. Totally worth $57.50
Continent 3 part cards, maps and CD covers; parts of bat 3 part cards;
flags of Africa for the puzzle maps; Flags of Africa 3 part cards
fruit 3 part cards; geometric solids 3 part cards;
colour tablets boxes 1, 2 and 3; herbs and spices 3 part cards
knights and castles 3 part cards; knobbless cylinder patterns;
3D knobless cylinder patterns; air, land and water cards
penguin 3 part cards; vegetable 3 part cards
volcano 3 part cards; parts of the farm grammar set
*
*
*
UPDATE
*
*
*
Kyle from
Montessori For Living
is also offering a
6 month subscription as part of the prize too.
Please help to spread the word by mentioning the giveaway* on your own blog/twitter/FB/neighbour over the road etc. and lets try and raise as much money as possible for those in need. Also keep an eye on
Toni's blog
to see who else is getting involved.